Genie Harrison frequently teaches and lends her expertise to other attorneys at events and seminars throughout California.
Genie Harrison speaking with the best lawyers in California on the Masters Panel at a CAALA Conference in Las Vegas.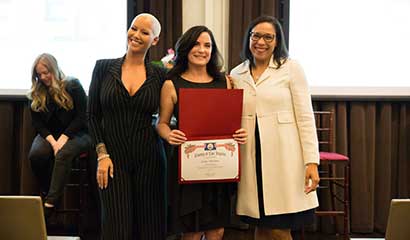 Genie Harrison was a speaker at the 2018 Annual Amber Rose Women's Conference held at USC. She was honored with a proclamation from the City of Los Angeles for her leadership in women's rights advocacy.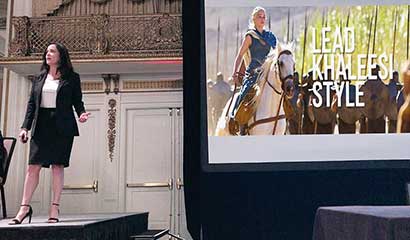 Genie Harrison was honored to speak at the 2017 Consumer Attorneys of California (CAOC) conference alongside Amy Fisch Solomon and Sonia Chopra on CAOC's Annual Conference panel entitled "For Women Jedis: Women In The Courtroom." Genie gave an inspiring and educational speech about her keys to winning at trial. Her entertaining presentation incorporated storytelling elements from Game of Thrones — sorry for the spoilers — and inspired with a cool mashup of Daenerys Targaryen clips and her "Faith in Myself" speech.
Click on the YouTube video above so you can be inspired, too.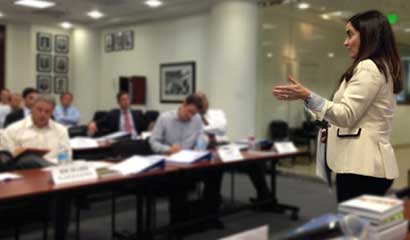 Los Angeles employment lawyer Genie Harrison teaching at the Consumer Attorneys Association of Los Angeles (CAALA) Plaintiff Trial Academy.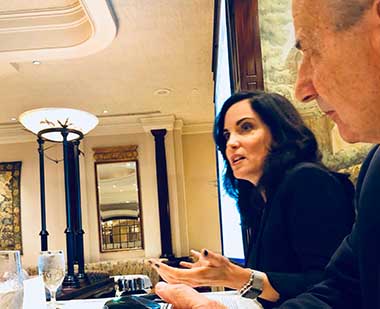 Los Angeles employment lawyer Genie Harrison speaking on sexual harassment in Hollywood at a Beverly Hills Bar Association event.
Here is a partial list of seminars and speaking events by Genie Harrison:
12/14/21 – Western Trial Lawyers Association Seminar — Update on Non-Lawyer Ownership of Law Firms & Paraprofessionals

11/20/21 – CAOC Annual Conference — Sexual Abuse and Harassment Cases: From Survivors to Systemic Failures

08/07/21 – CAALA New Lawyers Trial Skills Seminar

06/08/21 – Los Angeles County Bar — Should California License Paraprofessionals to Provide Legal Services?

04/30/21 – CAOC Palm Springs Seminar — Employer Obligations in the Workplace after Covid-19

11/14/19 – CAOC Annual Conference – Arbitration Update

08/29/19 – CAALA 2019 Annual Conference – Update on Employment Statutes and Cases

05/16/19 – Santa Clara University School of Law – Public Interest and Social Justice Law Commencement Ceremony – Keynote Speaker

05/02/19 – CAOC Palm Springs Seminar – #MeToo Legislative Update

03/30/19 – CAALA Trial Skills for the New Attorney – Pre-Trial Process

03/20/19 – CAALA New Lawyers Meeting – Telling Your Client's Story – The Emotional Distress Case

03/13/19 – Loyola Law School's Consumer Law Society – Fighting for Victims

03/3/19 – UC Women's Leadership Conference "Lean In" held at UCLA –  Speaker/Panelist: #MeToo Movement

02/28/19 – LAUSD International Studies Learning Center – Sexual Harassment Training

01/9/19 – LACBA It's a Crime Maybe Seminar (High Profile Sexual Harassment Cases & Criminal Law Overlap)

11/16/18 – CAOC Annual Conference – Timely Topics: Shifting the Balance – #MeToo Sexual Abuse/Harassment

11/05/18 – CAALA Emotional Distress Webinar

10/30/18 – Beverly Hills Bar Association Committee on Empowering Women – #MeToo Curbing Bad Behavior

10/12/18 – CELA 2018 Annual Conference – Report on Statistical Analysis of Results in California Employment Arbitrations

10/5/18 – Amber Rose Foundation Women's Conference at USC – Speaker

8/31/18 – CAALA 2018 Annual Conference – #MeToo Evidence in Sexual Harassment Cases

07/18/18 – Co-Chair Daily Journal's Annual Employment Law Conference & Moderator of #MeToo and Pay Equity panels

6/9/18 – Mexican American Bar Association's #MeToo Sexual Harassment Seminar – Preventing Sexual Harassment in Your Law Firm

5/23/18 – Westside CELA Seminar – Valuing, Presenting and Arguing Emotional Distress Damages

5/4/18 – CAOC Palm Springs Seminar – #MeToo: Sexual Harassment, Related Claims & Settlements

4/30/18 – USC: Women in the Legal Profession

4/18/18 – Beverly Hills Bar Association – #Me Too and #TimesUp: Sexual Harassment in the Entertainment Industry

3/12/18 – UCLA School of Law – Small and Mid-Size Firm Practice

3/10/18 – CAALA Trial Skills for the New Attorney – Pre-Trial Process

11/28/17 – California Assembly Rules Subcommittee Hearing on Harassment, Discrimination, and Retaliation Prevention and Response – Subject Matter Testimony on Pattern & Practice Harassment, Discrimination, & Retaliation in Public Entities

11/17 – CAOC Annual Convention –

For Women Jedi's: Women In The Courtroom

10/21/17 – CAALA Inaugural Women's Trial Skills Conference – Conducting Voir Dire

9/2/17 – CAALA 2017 Annual Conference – Advanced Trial Skills: Closing Arguments

7/18/17 – Daily Journal's First Labor & Employment Law Conference – Equal Pay Cases

6/5/17 – CAALA Third Annual Plaintiffs Trial Academy – "Plaintiff's Case in Chief"

4/6/17 – Association of Workplace Investigators – Speaker "Conversation With" Series

3/17 – CAALA Annual Trial Skills for the New Attorney –"The Trial Part II – Procedures, Presenting Evidence, Preparing Witnesses, Direct and Cross Examination"

11/12/16 – CAOC Annual Convention – "Gender Discrimination in the Law"

9/3/16 – CAALA 2016 Annual Conference – "Preparing Plaintiffs for Direct and Cross Examination"

6/8/16 – CAALA Third Annual Plaintiffs Trial Academy – "Defendant's Case in Chief"

5/25/16 – CELA Diversity Leadership Summit – Keynote Speaker

5/10/16 – CAALA "How to Start, Build & Run Your Practice" Roundtable Discussion

3/9/16 – LACBA Labor & Employment Law Section – Annual Symposium – Speaker – Technology in Trial

1/16 – Pepperdine Law School, "Employment Law Dispute Resolution Basics"

10/22/15 – CAALA Annual Judges Evaluation Seminar

9/15 – CAALA 2015 Annual Conference – Speaker: "The California Family Rights Act & Pregnancy Disability Leave Law;" Moderator: Master Speaker Session "The Road to Trial Success from The Masters"

7/15 – The Advocate – "Empowering and Inspiring Your Inner Trial Lawyer"

5/15 – CAALA Second Annual Plaintiffs Trial Academy – "Plaintiff's Case in Chief"

3/15 – CAALA Annual Trial Skills for the New Attorney – "Summary Judgments"

2/15 – CAALA Trial Technology Seminar – "Using PowerPoint Presentations in Trial"

10/14 – CELA Annual Conference – "Obtaining Larger Damage Awards"

9/14 – CAALA 2014 Annual Conference – Master Speaker –"Empowering and Inspiring Your Inner Trial Lawyer" – sole woman trial lawyer on panel with Browne Greene, Jack Denove, Carl Douglas, Carney Shegerian and Arash Homampour (800+ audience members)

4/14 – CAALA Inaugural Plaintiffs Trial Academy – "Trial Preparation, Strategy & Tactics"

3/14 – CAALA Annual Trial Skills for the New Attorney – "The Trial Part 1"

2/14 – LACBA Labor & Employment Section Annual Symposium –

 

Speaker & Moderator – "Working with Transgender Clients and Co-Workers;"

9/13 – Co-Chair of CAALA 2013 Annual Convention – Moderator – "Science of Persuasion" Panel

6/13 – BHBA – "Proving and Defending Emotional Distress Damages in Employment Litigation"

5/13 – LACBA Labor & Employment Section Annual Retreat – Moderator – "Ethics in Employment Law Cases"

2/13 – Co-Chair & Moderator – CAALA & ASCDC – New Court Procedures Seminar

11/12 – Presenter – CAOC's Annual Conference – "Law & Motion Basics"

10/12 – CELA Annual Conference – Special Skills Seminar on Focus Groups & "Law & Motion Basics"

9/12 – CAALA Annual Convention – "Investigating Employment Cases Before Discovery"

4/12 – CAALA Webinar – Moderator – "Taking Depositions of Psychological Experts"

3/12 – 32nd Annual LACBA Labor & Employment Symposium –"Vexatious Litigation: Tackling the Tough Topics in Discovery Disputes"

3/12 – 15th Annual Trial Lawyer Skills for the New Attorney 2012 – "What the New Lawyer Needs to Know About Employment Cases"

9/11 – Co-Chair of CAALA Annual Convention – Moderator of three panels (Demonstrative Evidence & Technology; Law & Motion; Commercial Torts)

3/11 – NELA Trial Advocacy for the Plaintiffs Employment Lawyer program – "Using Your iPad to Try the Case"

9/10 – Co-Chair of CAALA Annual Convention

4/10 – CAALA "Voir Dire by the Masters"

10/09 – CELA Annual Conference – Special Skills Seminar – Mock Trial Opening Statement Demonstration

9/09 – CAALA Annual Las Vegas Convention – "Developments in Employment Class Actions and Wage & Hour Claims"

8/09 – The 23rd Annual Jack Daniels/Los Angeles ABOTA Trial School – "Insider's Perspective"

5/09 – Labor & Employment Law Section Annual Retreat – Moderator – "Judicial Perspectives" Panel

11/08 – CAOC Annual Convention – "Identifying Actionable Sexual Harassment Claims"

5/08 – CAALA Voir Dire Methods for the Plaintiff Lawyer Seminar – "Voir Dire in Employment Cases"

5/08 – LACBA Labor & Employment Section Annual Retreat – "Elimination of Bias – Wishful Thinking or Real Progress"

11/07 – CAOC Annual Convention – "I'd Rather Be a Hammer Than a Nail" – "Get Up, Stand Up, Stand Up for Your Rights!" – "Who Let the Dogs Out" and What Happened After They Fed Alpo to the Fire Fighter

9/07 – CELA Annual Conference – "Making the Pain Real: Emotional Distress Damages"

8/07 – Tom Girardi's "Champions of Justice" Radio Program

10/05 – CELA Annual Conference – "Employment Law 101 Discovery"