We help victims recover.
(213) 805-5301
We are top sexual abuse, sexual harassment
and employment lawyers.
If you've been sexually harassed, assaulted, or raped at work or outside of work, we can help you.
We represent employees and others who have suffered harassment or discrimination based on sex, gender, race, religion, sexual orientation, gender identity, ethnicity, national origin or disability, who have been retaliated against and wrongfully terminated, and those whose wages have been stolen.
We are employment lawyers who are here to help you take back your power.
We are employment lawyers who are here for you, the employee who has been wronged and harmed in violation of the law, or others who have suffered sexual harassment or sexual abuse at work, school or home. We have developed an outstanding reputation for vigorous, committed and effective advocacy on behalf of victims.
You are fortunate to work in California where you have significant protections as an employee. We understand how devastating it is to be discriminated against, harassed, to have your job threatened or to lose your job. We are here to help.
Each client has unique needs and we tailor our approach in each case to make sure that your needs are met. We can help in various ways — we can aggressively litigate and try your case, or we can negotiate with your employer to resolve your dispute.
Put the legal experience of our victim's rights attorneys at the Genie Harrison Law Firm to work for you. Our law practice is devoted exclusively to plaintiff representation.
You are not powerless. You just need someone to help you.
Call us at (213) 805-5301, or fill out our contact form for a free case review.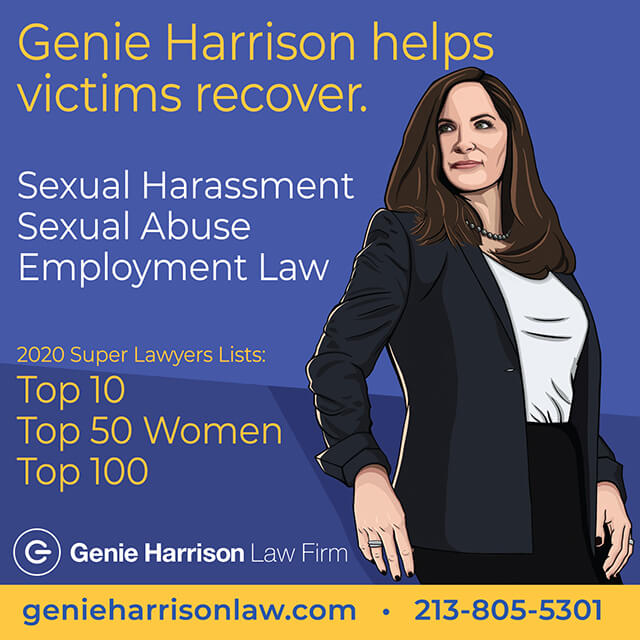 Genie Harrison is on the 2020 Southern California Super Lawyers Top 10 attorneys list for the fifth year in a row.
Here's why we are the best employment law firm for you and your wrongful termination case, sexual harassment case or other legal employment issue:
Recent Podcasts Featuring Genie Harrison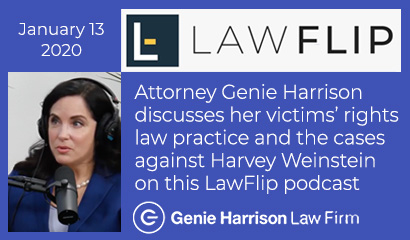 Genie is a guest on this podcast with Benjy Smith and Louis Benowitz at Law Flip. In this podcast, Genie discusses the Me Too Movement, her own survivor story, how she grew her law practice and her involvement in the Harvey Weinstein legal battle.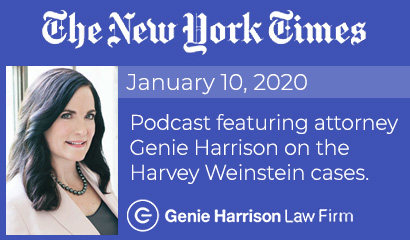 Genie is a guest on this (audio only) podcast with New York Times journalist Jodi Kantor titled: The Harvey Weinstein Case, Part 2. Genie discusses our client, Jane Doe, and the difficult decisions victims have to make when deciding what action to take against their perpetrators.
Genie Harrison Law Firm In The News