We help victims recover.
(213) 805-5301
We are top sexual abuse, sexual harassment
and employment lawyers.
If you've been sexually harassed, assaulted, or raped at work or outside of work, we can help you.
We represent employees and others who have suffered harassment or discrimination based on sex, gender, race, religion, sexual orientation, gender identity, ethnicity, national origin or disability, who have been retaliated against and wrongfully terminated, and those whose wages have been stolen.
The following is a statement from Genie Harrison about the passing of her John Doe client suing Kevin Spacey. Harrison has no further comment at this time.
I regret being forced to respond to Kevin Spacey's undignified, insensitive and inappropriate public filing of the notice of death of our client, John Doe.
It is true that Mr. Doe recently died. His untimely death was, to his family, a devastating shock that they are struggling to process and is so recent that they have not yet held his funeral service.
Out of professional responsibility, we notified Spacey's counsel of Mr. Doe's passing. We explained our intent to allow his family more time to get past their immediate, paralyzing grief and begin settling his affairs before we filed a death notice with the court — which is our prerogative as his counsel. Spacey ignored our request for compassion and filed the notice yesterday without our consent.
While there is no court deadline for filing a party's death notice, filing triggers a 90-day countdown. That means that unless the estate is substituted in the party's place, the court may dismiss the case.
Filing the notice yesterday was unnecessary and contemptible. I'm not surprised, however, that Spacey prematurely filed the notice in an attempt to gain the advantage of a ticking clock. Mr. Doe's family must now open his estate at the same time as planning a funeral and processing their grief.
Mr. Doe was a dignified, kind, middle-aged man traumatized by Spacey's alleged sexually depraved attack. As a result of this case, other victims from around the world have reached out to our firm. Mr. Doe believed their harrowing stories, and in his final months he looked forward to standing up for all of them. His fight for justice is still very much alive.
My firm grieves the loss of Mr. Doe, who was truly a wonderful client and human being. He brought light and love every time he visited our office, and we were lucky to know him.
Genie Harrison Law Firm In The News
We are employment lawyers who are here to help you take back your power.
We are employment lawyers who are here for you, the employee who has been wronged and harmed in violation of the law, or others who have suffered sexual harassment or sexual abuse at work, school or home. We have developed an outstanding reputation for vigorous, committed and effective advocacy on behalf of victims.
You are fortunate to work in California where you have significant protections as an employee. We understand how devastating it is to be discriminated against, harassed, to have your job threatened or to lose your job. We are here to help.
Each client has unique needs and we tailor our approach in each case to make sure that your needs are met. We can help in various ways — we can aggressively litigate and try your case, or we can negotiate with your employer to resolve your dispute.
Put the legal experience of our victim's rights attorneys at the Genie Harrison Law Firm to work for you. Our law practice is devoted exclusively to plaintiff representation.
You are not powerless. You just need someone to help you.
Call us at (213) 805-5301, or fill out our contact form for a free case review.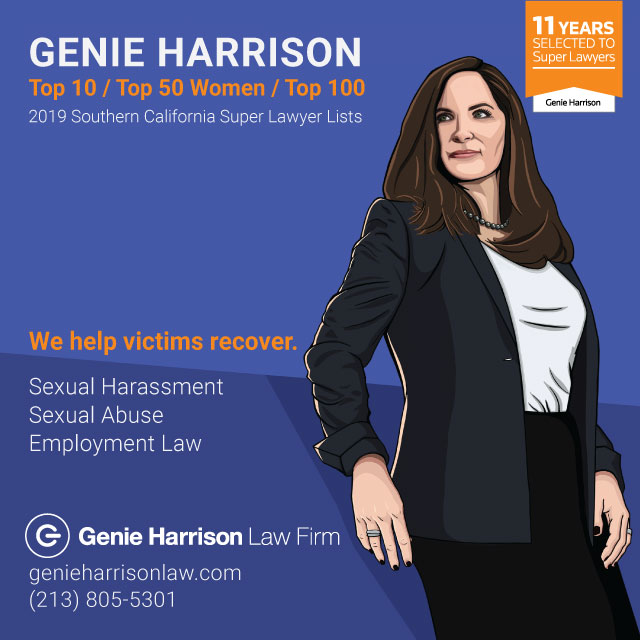 Genie Harrison is on the 2019 Southern California Super Lawyers Top 10 attorneys list for the fourth year in a row.
Here's why we are the best employment law firm for you:
Genie Harrison Law Firm News