We help victims recover.
(213) 805-5301
We are top sexual abuse, sexual harassment and employment lawyers.
If you have been sexually harassed, assaulted, or raped at work or outside of work, we can help you.

We represent employees and others who have suffered harassment or discrimination based on sex, gender, race, religion, sexual orientation, gender identity, ethnicity, national origin or disability, who have been retaliated against and wrongfully terminated, and those whose wages have been stolen.

TAKE BACK YOUR POWER. CONTACT US.
We are employment lawyers who are here to help you take back your power.
We are trial lawyers who are here for you, the employee who has been wronged and harmed in violation of the law. We have developed an outstanding reputation for vigorous, committed and effective advocacy on behalf of employees.
You are fortunate to work in California where you have significant protections as an employee. We understand how devastating it is to be discriminated against, harassed, to have your job threatened or to lose your job. We are here to help.
Each client has unique needs and we tailor our approach in each case to make sure that your needs are met. We can help in various ways — we can aggressively litigate and try your case, or we can negotiate with your employer to resolve your dispute.
Put the legal experience of our attorneys at the Genie Harrison Law Firm to work for you. Our law practice at the Genie Harrison Law Firm is devoted exclusively to plaintiff representation.
You are not powerless. You just need someone to help you.
Call us at (213) 805-5301, or fill out our contact form for a free case review.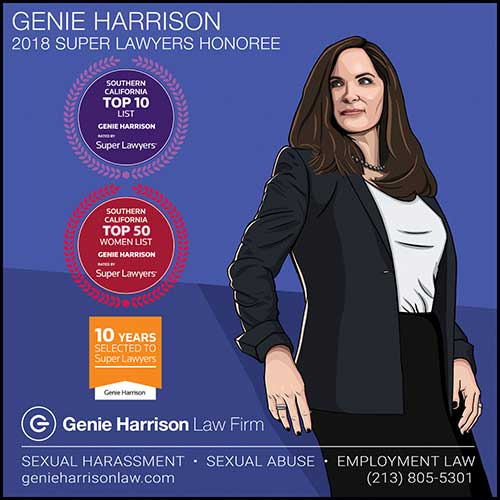 Genie Harrison is listed as the second highest ranking lawyer on the 2018 Southern California Super Lawyers Top 10 attorneys list.
Here's why we are the best employment law firm for you: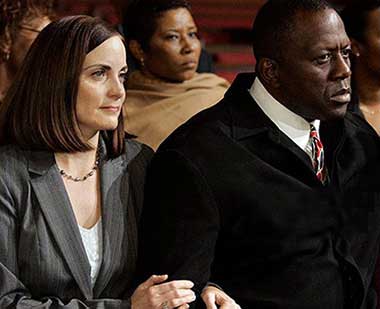 We ONLY represent plaintiffs — employees and victims.
The Genie Harrison Law Firm is a plaintiff-only, boutique law firm that has been consistently recognized as one of the best employment and sexual harassment law firms in California. Our firm has developed an outstanding reputation for vigorous, committed and effective advocacy on behalf of employees who have had their rights violated, and victims of sexual harassment, sexual abuse and rape. Simply said, we only fight for the victims, never for the perpetrators.
Our focus is on YOU and YOUR CASE.
Labor and employment law is a complex field of practice that is constantly evolving. We only take a limited number of cases so we can fight aggressively for you.
Your job is important to you and your family's well being. We are committed to protecting employee rights, and if your case is not appropriate for our firm, we may be able to place you with a more suitable law firm.
We help victims recover.
If you are the victim of sexual harassment in the workplace, or in another professional or social situation, you may feel powerless, vulnerable and afraid to speak out. We understand this, with compassion, and we can consult with you on all issues of sexual and inappropriate conduct in the workplace.
With the strong reputation of the Genie Harrison Law Firm on your side, we can help you to level the playing field and take back your power. We care about you, and we care about helping victims recover.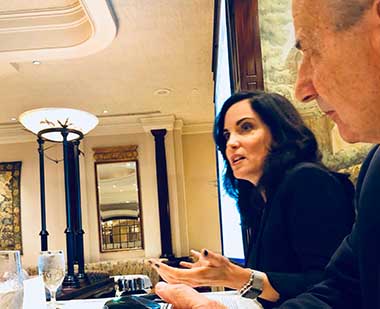 The Genie Harrison Law Firm gets results.
The results we have obtained speak for themselves — both in terms of compensation obtained for our clients who have had their rights violated, and in terms of the change we have created.
Through single-plaintiff, multi-plaintiff and class action cases, our attorneys have obtained in excess of $85 million in settlements and verdicts for our clients in the following areas of practice: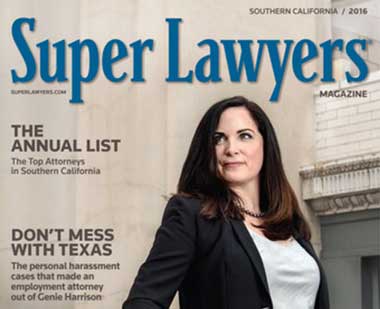 Genie Harrison has been acknowledged with rare distinction.
For 2018, Ms. Harrison was again named one of the Top 10 Southern California Super Lawyers, as well as one of the Top 50 Women Southern California Super Lawyers. This is Ms. Harrison's third straight year of being named to these prestigious lists.
Ms. Harrison has been recognized by Best Lawyers of America for Plaintiff's Employment Litigation, and the Daily Journal as one of the Top Labor & Employment Lawyers in California. The Daily Journal has named Ms. Harrison one of the Top Women Lawyers in California for 2018.
Ms. Harrison is actively involved in the Consumer Attorneys Association of Los Angeles (CAALA), the nation's largest local association of plaintiff's attorneys. She has served on the Board of Governors since 2008 and in September 2015, Ms. Harrison was elected to the 2016 Executive Committee.
Genie Harrison currently serves as the 2nd Vice President of CAALA. In 2021, she will become the fifth female president of CAALA in its 70th Anniversary year.
Read the Super Lawyers cover story about Genie Harrison and the personal harassment cases that made her pursue employment law HERE >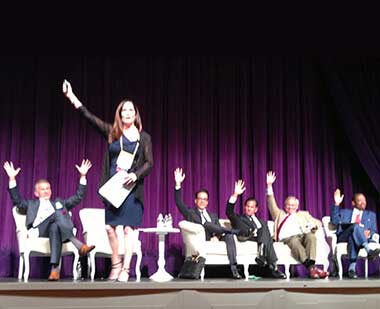 We are leaders in California's Legal Community.
Genie Harrison and Amber Phillips, founders of the Genie Harrison Law Firm, give their time and expertise generously each year teaching litigation and trial skills to other lawyers through volunteer work on boards and committees of various trial lawyers organizations, and through teaching at California law schools.
Genie Harrison also works to advance the trial skills of plaintiffs' counsel through her training and speaking at numerous law conferences throughout the state over the year, and through writing various published articles.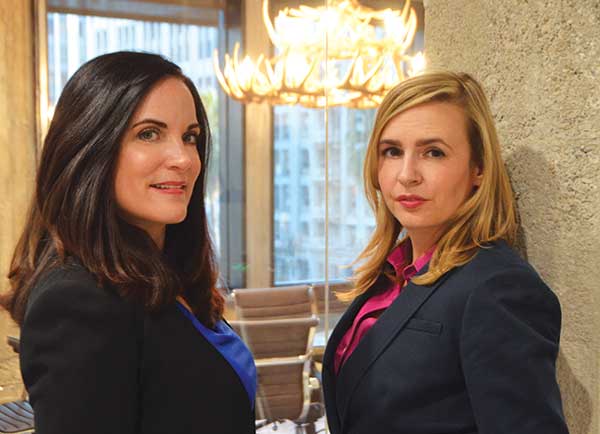 The lawyers at the Genie Harrison Law Firm believe in giving back to the community.
Ms. Harrison is a member of the Board of Trial Lawyers' Charities (LATC), a non-profit organization making a positive difference in the quality of life for people within the greater Los Angeles community by focusing on issues related to battered women, children, the homeless and persons with disabilities.
Our nationally recognized employment and sexual harassment lawyers are outstanding advocates for plaintiffs in employment and civil rights cases. We do this work because we believe that you deserve justice.
Genie Harrison Law Firm News