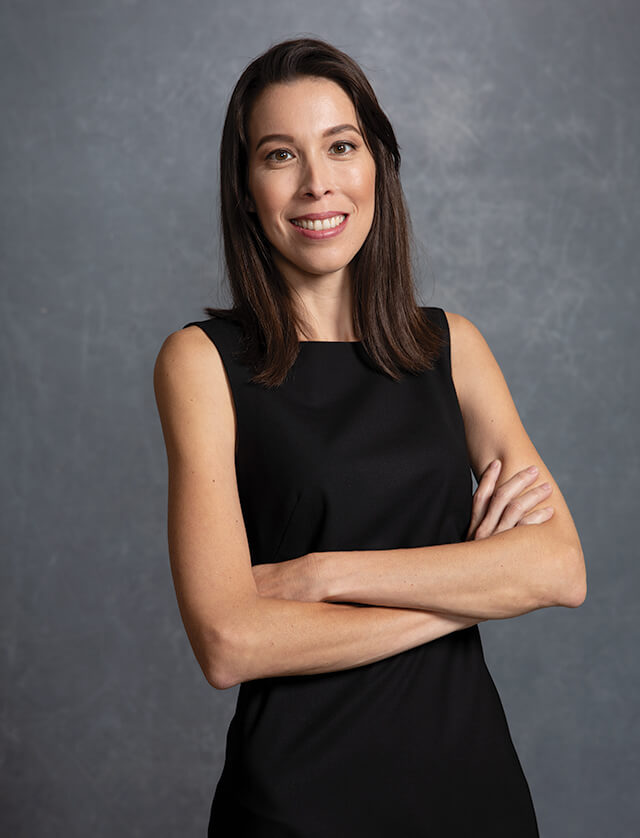 Mia Munro
TRIAL ATTORNEY
Mia
exclusively represents employees to enforce their rights in the workplace under state and federal civil rights laws including anti-discrimination, anti-harassment, whistleblower, and wage and hour laws
Mia Munro is a Los Angeles employment attorney who has dedicated her entire legal career to protecting and enforcing the civil rights of individuals in the workplace. Mia was recognized by Southern California Super Lawyers as a Rising Star Honoree in 2020, 2021, and 2022.
After graduating with honors with a bachelor of arts degree in Political Science from the University of Pennsylvania, Mia was selected by the U.S. Department of Justice's Outstanding Scholars Program to serve as a paralegal at the U.S. Attorney's office in Manhattan, New York. There, Mia worked on multiple trials combatting the exploitation of civilians by organized crime groups, including a trial against a human trafficking ring that enslaved dozens of undocumented women from South Korea. 
After serving at the U.S. Attorney's Office, Mia attended and graduated with honors from New York University School of Law, where she dedicated her studies to civil rights. At NYU Law, Mia served as Co-Director of the Suspension Representation Project fighting the suspensions of inner city public school children at New York's public schools, as a Student Advocate at the New York Civil Liberties Union fighting the unconstitutional use of excessive force by police on a child at a public school, as an intern at non-profit organizations Lawyers for Equal Justice and the Legal Aid Society Employment Law Center (now Legal Aid at Work) assisting with civil rights impact litigation, and as an editor at NYU Law Review of Law and Social Change.
After law school, Mia was selected for a fellowship with Equal Rights Advocates, a national women's rights impact litigation organization based in San Francisco. Mia served for two years representing women and caregivers who suffered from discrimination, harassment, and retaliation in the workplace; engaged in legislative and regulatory advocacy to enhance the protections of pregnant workers and caregivers in the workplace, including co-writing a white paper report that has been used to support legislation across the country; and advocated for the rights of formerly incarcerated women seeking employment. 
In 2013, Mia moved to Los Angeles, where she has exclusively represented employees to enforce their rights in the workplace under state and federal civil rights laws including anti-discrimination, anti-harassment, whistleblower, and wage and hour laws. 
Mia is admitted to practice before the California state courts and the Central and Eastern Districts of California of the United States District Court.
Mia is also a member of the California Employment Lawyers Association (CELA), Consumer Attorneys Association of Los Angeles (CAALA), Women Lawyers Association of Los Angeles (WLALA), and Asian Pacific American Bar Association of Los Angeles (APABA). She serves on the CELA Legislative Committee, as a volunteer attorney at Legal Aid at Work's Workers Rights Clinic, and as a mentor at the University of Pennsylvania and at CELA.
When not working, Mia enjoys spending time with her husband, children, and rescue pit bull, and visiting her hometown in Hawai'i.
Mia is conversant in Spanish.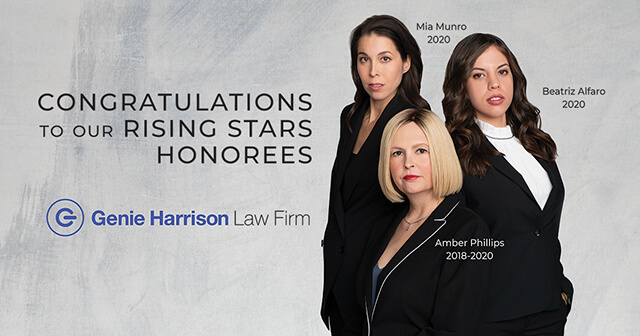 What is Rising Stars?
To be eligible for inclusion in Rising Stars, a candidate must be either 40 years old or younger or in practice for 10 years or less. While up to 5 percent of the lawyers in a state are named to Super Lawyers, no more than 2.5 percent are named to Rising Stars. All attorneys first go through the Super Lawyers selection process. Those who are not selected to the Super Lawyers list, but meet either one of the Rising Stars eligibility requirements, then go through the Rising Stars selection process.
Recent Case Results for Mia Munro
$3,250,000
Total Settlements in 2020
$2,124,269
Total Settlements in 2019
$4,876,704
Total Settlements in 2018
$1,994,000
Total Settlements in 2017
$1,784,975
Total Settlements in 2016
$2,250,000
Total Settlements in 2015
Practice Areas of the Genie Harrison Law Firm