Beatriz Alfaro
ASSOCIATE ATTORNEY
Beatriz represents clients in cases involving employment discrimination, wrongful termination, whistleblower retaliation, and sexual harassment.
Beatriz Alfaro is an Associate Attorney with the Genie Harrison Law Firm and was recognized by Southern California Super Lawyers as a Rising Star Honoree in 2020.
Born in El Salvador and raised in Los Angeles, Beatriz earned her undergraduate degree from Loyola Marymount University where she double majored in Women's Studies and Spanish. Working in both Harvard University's Latino Leadership Initiative project and the UCLA Law Fellows Program, Beatriz developed an early passion for public service, promoting diversity, and gender equality. Following this passion for employment discrimination law, Beatriz received her law degree from the UC Davis School of Law (Dr. Martin Luther King Jr. Hall).
While in law school, Beatriz clerked at the Santa Monica City Attorney's Office, Yolo County District Attorney's Office, and Attorney General's Office in Los Angeles. In the fall of 2015, Beatriz externed for Associate Justice Elena Duarte at the Third District Court of Appeal. After externing with Justice Duarte, Beatriz secured a Civil Rights Fellowship with the Department of Fair Employment and Housing where she worked as an employment discrimination lawyer and investigated and prosecuted discrimination in employment, housing, and public accommodations matters.
Beatriz was also recognized for her work in employment discrimination law by Hispanas Organized for Political Equality (HOPE) with the Future History Maker Award. In 2018, the Los Angeles County Bar Association (LACBA) recognized Beatriz as a Hispanic Heritage Month Honoree.
Beatriz is a native Spanish speaker and hopes to always partake in mentoring programs since they were fundamental to her success.
Beatriz's Case Highlights:
2019 Seven Figure Settlement against international corporation
2019 Six Figure Settlement against international fashion company
2019 Six Figure Settlement against a national corporation
2019 Six figure settlement against a nationwide health facility
2018 Six Figure Settlement against California public entity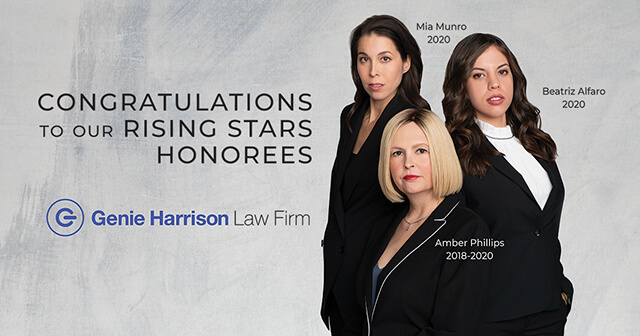 What is Rising Stars?
To be eligible for inclusion in Rising Stars, a candidate must be either 40 years old or younger or in practice for 10 years or less. While up to 5 percent of the lawyers in a state are named to Super Lawyers, no more than 2.5 percent are named to Rising Stars. All attorneys first go through the Super Lawyers selection process. Those who are not selected to the Super Lawyers list, but meet either one of the Rising Stars eligibility requirements, then go through the Rising Stars selection process.
Practice Areas of the Genie Harrison Law Firm